Testimonials
Dawn, 38, Bellmore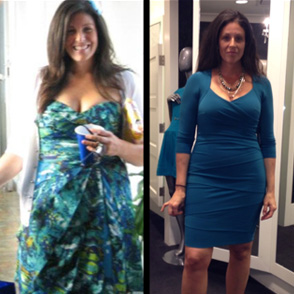 I began using Jamie because regular cardio was not working for me anymore to get to my goal weight for my wedding. I needed a kick start and a change. I had already been working at weight loss and dieting for over a year and the only direction the scale was moving was up. I committed myself to Jamie's workouts in the spring and by my wedding in September I was so happy with myself! Jamie incorporated an amazing variety of exercises which included weight training, cardio, interval training, Tabata and cross fit exercises. Jamie is GREAT at this! She also uses a variety of equipment to keep it interesting. I have always avoided weight training and could barely do 5 push-ups when I started. While working with Jamie I was increasing the weights I was lifting and doing lots of push-ups and burpies.
Jamie is also very professional. She was always on time, completely reliable and dependable every single time we met. She was also very flexible with my changing schedule which I appreciated. Our sessions were very educational as well. I feel confident in knowing how to workout on my own now!
I lost 18 pounds before my wedding. But I have never felt as good as I did at that weight because I had muscle definition and strength that I have truly never had before. I felt like such an amazing and strong woman. I feel so mentally and physically strong and confident. I would recommend using Jamie as a trainer in a heart beat!
*Individual results may vary
Diana, 29, Massapequa Park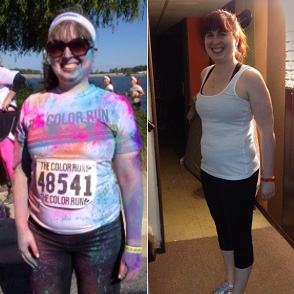 Pretty much since I turned 23, I seemed to have no control over my weight. I would go up and down (mainly up) and when I did lose weight, I was in terrible shape after a back injury pushed me from a very active pastry chef position to sitting at a desk. When I found Jamie online, I was so excited because I was embarrassed to go to the gym looking like I did. One year later, I am now very close to my goal weight and in the best shape of my life. Hiring Jamie was the best decision I made. Thank you!
*Individual results may vary
Naala, 43, Baldwin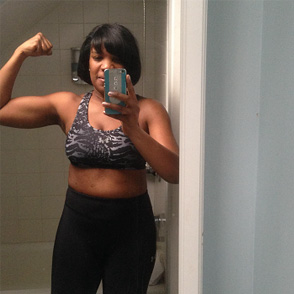 Jamie is the best possible personal trainer anyone could ever ask for. I have asthma and I've never been able to run more than one block without being out of breath. Through Jamie's training style and her inspiring and focused demeanor, in less than one month I am now running 2 miles straight without stopping. That's all due to her training.
As a trainer, she gives you her undivided attention and motivates you to want to do more. She is always prompt, friendly but tough. She comes very organized for your sessions with a planned work out to fit your goals and she mixes things up so you never get bored. She quickly learns your likes and dislikes and pushes you to be better every day and the amazing thing is you end up having fun and losing weight too. What a great combo!
I would recommend Jamie to all my friends, family, strangers etc. She is the best!
*Individual results may vary
Lauren, 30, Wantagh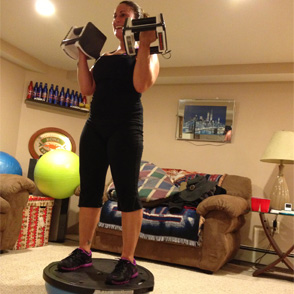 I needed a change in my workout routine. I was not seeing any results when exercising by myself. Jamie challenged me on a day-to-day basis. I started to do things I never thought my body could do. Jamie always kept it interesting for me. She pushed me to try new things while remaining aware of my limits. I always felt accomplished after our workouts. I never thought I would be able to do regular push-ups. When I first started working with Jamie I was using 5lb weights. Now I am using 25-30 lb weights. I hate doing sit-ups/crunches and Jamie was able to show me a ton of different moves that hit the core without having to do the traditional sit-up or crunch.
After several months of working with Jamie my body fat percent decreased, I've lost inches off my waist, my legs are insanely toned and I even toned that flabby part under my arms! I have also gained confidence in knowing that my body is more capable than I ever thought it could be! I have also learned that exercise does not have to be a chore; it can be fun and challenging! Jamie also taught me a lot about healthy eating habits and different foods/exercises that fuel my metabolism. I found our sessions to also be educational. I was so unsure if a personal trainer was the right thing for me, but once I made the leap and started working with Jamie I knew it was not only the right decision, but the decision I needed to make to help me with my workouts and overall self confidence. I would definitely recommend using Jamie as a personal trainer!
*Individual results may vary
Patricia, 54, Bellmore
Working out under Jamie's supervision and direction has been more than what I had expected. I have had personal trainers before but Jaime was able to target exactly the right exercises to help me reach my goal without exerting me more than my comfort level. Somehow she knew exactly what I needed. Her workouts are well planned and filled with quality, and not a minute is wasted. I will continue to confidently workout with Jaime for a very long time!
*Individual results may vary
Karyn, 42, Merrick
I contacted Jamie when I was recovering from a serious neck injury which caused me to have very weak muscle tone and major stiffness in my body from being incapacitated in bed for many months. I was very nervous about doing personal training as I was afraid that possibly a trainer could make my condition worse.
Jamie was a godsend! She was very attentive to my particular needs and concerns. She knew the anatomy of the body extremely well – more so than my own physical therapist! Because of this she was able to devise a workout that would help me regain my movement and fluidity while also gaining muscle tone. She was patient and always coming up with diverse (and fun!) workouts to keep me motivated and challenge my body to become stronger. In fact, she would come into the sessions smiling and saying, "We're going to do something different today". I would laugh and say to her that doing something different would be doing the same routine over and over for her. While she is very patient, she was always challenging me to do my best and to do more than I thought I was capable of.
In fact, the sessions changed from healing my body to doing personal training with her for my own benefit. I just felt so good after her sessions that I started envisioning myself running and getting my body fit, all with her encouragement.
I highly recommend Jamie to anyone who is looking for a trainer. She knows her stuff, but better yet she knows how to teach and motivate you. I was always excited when Jamie came and what I really respect is how conscientious she is. She is extremely reliable and very attentive to your needs. I am so grateful I met her!
*Individual results may vary
Claire, 26, Hicksville
Jamie is a very professional and friendly personal trainer with a lot of patience. She has a lot of tolerance while teaching something new. She is very dedicated to her job and is also very accommodating with hours. She uses a lot of creative ideas to make the workouts fun yet effective.
Jamie put a lot of thought into tailoring the workouts to fit what I was looking for. Every work out that I have done so far has been solely prepared for my body type and my needs. Due to carpal tunnel syndrome in both of my wrists, Jamie has planned several workouts that protect my wrists but still workout other parts of my body.
Before working with Jamie, I wasn't able to do a push up or a pull up. I was also afraid to try new things like the suspension system. Now I'm freely able to do all sorts of challenging workouts with it including planks! I would wake up fatigued every morning before I started training with Jamie. My mornings have been much better and my eating habits have changed tremendously.
I have gotten many compliments in the past 2 to 3 months on how my shoulders, arms, thighs and legs have gotten toned. I'm able to wear sleeveless tops and shorts without feeling uncomfortable. I have become more confident and have gained a lot of self respect for myself. Personal training with Jamie has not only taught me how to work out and what to focus on but it also made me realize that it is not the number on the scale but how you feel when you wake up and look in the mirror. Not only does my body feel better physically but I'm a healthier person mentally and emotionally. I would absolutely recommend working with Jamie. She is terrific person and excellent at what she does. She is very motivating and a great listener who always addresses all your needs!
*Individual results may vary
Gina, 58, East Meadow
I started working with Jamie the beginning of the year when I was diagnosed with diabetes. I was not sure what to do but I knew I had to do something. Contacting Jamie was the best thing I did!! With her help I have been able to lower my A1C from 7.5 to a 6.0!!! And if that's not enough, I have gotten stronger and dropped some weight and inches!! She is great at what she does and knew exactly how to get me started and make some amazing progress!! If you are looking for a trainer…look no further! Thank you Jamie!!!
*Individual results may vary